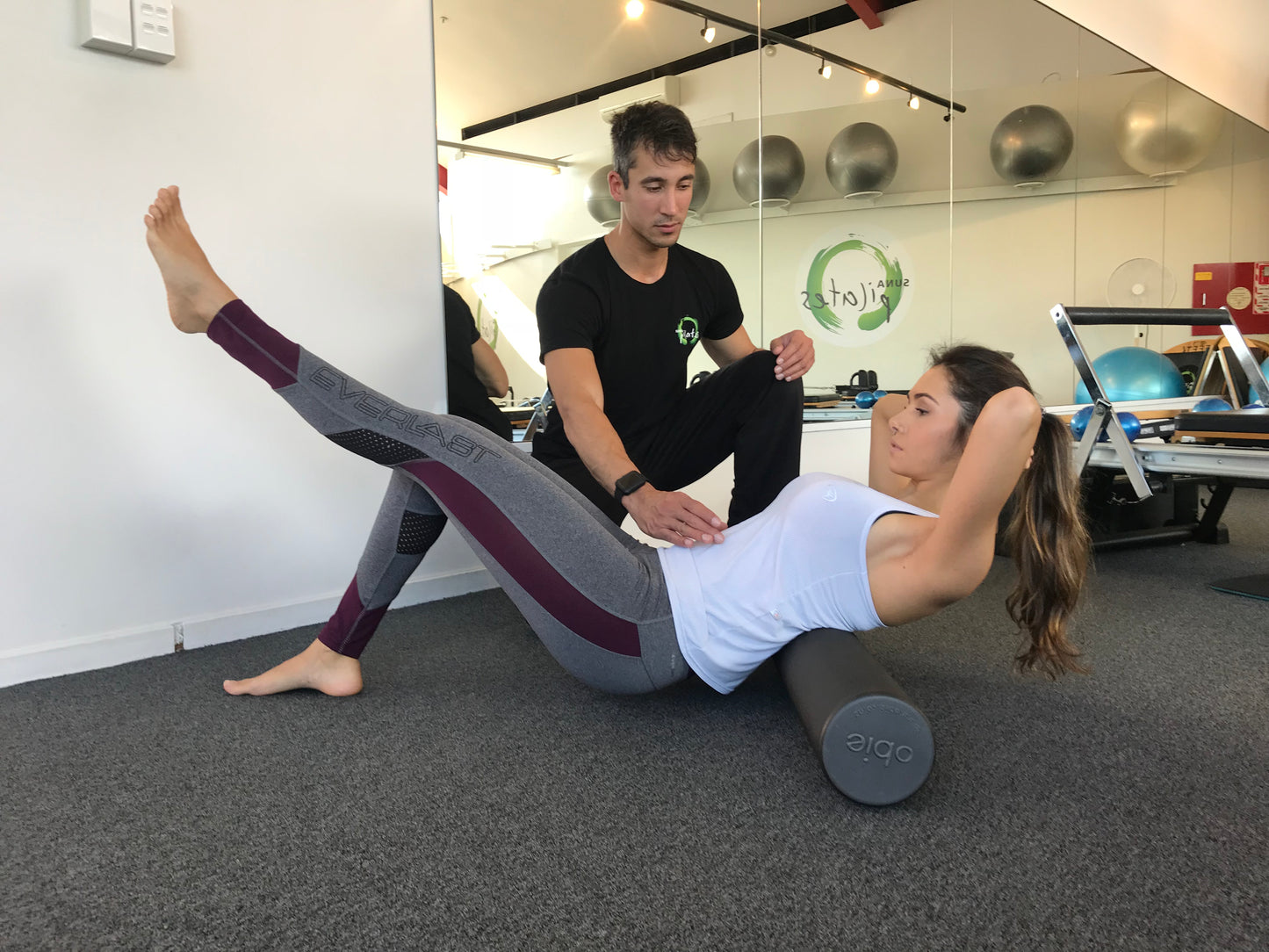 Pilates as an Injury Rehabilitation modality
If you live with back pain, knee issues, need post surgery rehab, or help to resolve an injury or ongoing physical pain, weakness or lack of mobility, Pilates is the ideal way to target and develop specific muscles with low to zero impact and controlled 
resistance - and exercises personalised to your needs.
If you need a injury rehab programme, we're here to help. Just let us know what you want to achieve, what injury or issues you are dealing with, and what your long term wellness goals are.
With 20 years' experience we know what works and have extensive knowledge about how to strengthen your body in the right way and in creating personalised rehabilitation programmes.
Pilates is incredible for injury rehabilitation
If you live with back pain, knee issues, need post surgery rehab, or help to resolve ongoing physical pain, weakness or lack of mobility, Pilates is the perfect way to target and develop specific muscles with low to zero impact and controlled resistance. 
Suna Pilates exercises are ideal for resolving back pain or knee issues - among many other physical issues that can really affect your daily life and wellbeing. We work to create a personalised experience for each client, especially those who are on a rehab journey! There are countless variations on the Pilates exercises we do, so when your instructor is aware of what you are working with (pain, injury, back issues, sore knees) they can make sure that you do the best variation for your body, even in a group workout.
We're not just here to help you 'pick up the pieces'!
If you know you have surgery coming, we can use rehab techniques to create a personalised programme to prepare your body for the fullest, and fastest possible recovery. 
How does Suna do rehabilitation?
Often we will use personal training Pilates sessions to start your rehabilitation programme as these are designed to be completely tailored to meet your unique needs and help you reach your fitness goals.
Individual Pilates sessions are ideal for Rehab work, and your Pilates Instructor will work with your injury to ensure you get the maximum rehabilitation benefits, safely.
In your first personal training session your instructor will begin with a postural analysis and assessment of any injuries and tensions. You can learn the key principles of Pilates, how they relate to you, and how to incorporate them into your every day life to help fast-track your recovery. 
In a personal training session, we can:
Rehabilitate injury, pain or specific muscular weaknesses
Combat back pain and knee issues
Work on your mind body co-ordination 
Gain confidence and competence in exercise
Focus on specific goals 
Get the benefit of a personal Pilates training session
Use muscle testing to reveal underlying issues
Our Suna Pilates Instructors are trained in Kinestatic (Kinesiology) muscle testing and can use this method to identify what's causing pain or other issues.
By combining Pilates and posture with Kinesiology muscle testing we can identify muscles that aren't functional, or muscles that are over-active, and reveal specific reasons why pain exists (and persists). 
These insights allow us to build a tailored rehab programme with targeted exercises which will help you return to pre-injury or pre-operation function, improve mobility restrictions, and even reduce your susceptibility to further injuries.
Our classes are small, so you get a personalised Pilates workout
We know that you may be dealing with physical pain, old injuries or stressful situations. Doing a workout is always great, but we want to know when you have pain, or struggle with an exercise, so that we can ensure each class works for you.
Every Suna workout should deliver you the exercise you need at the right level for your fitness, your experience and for any physical issues or injuries you are working through. 
'Pushing on through' is not always the answer! Please let our instructors know if you feel any pain, have concerns - or even if you just feel overwhelmed by life!
Whole body wellness is always a journey
We aim to give each Suna client a personalised experience where you feel seen, valued, and know we are helping you meet your goals. 
Curious? Cautious? Concerned?  Ask us anything!