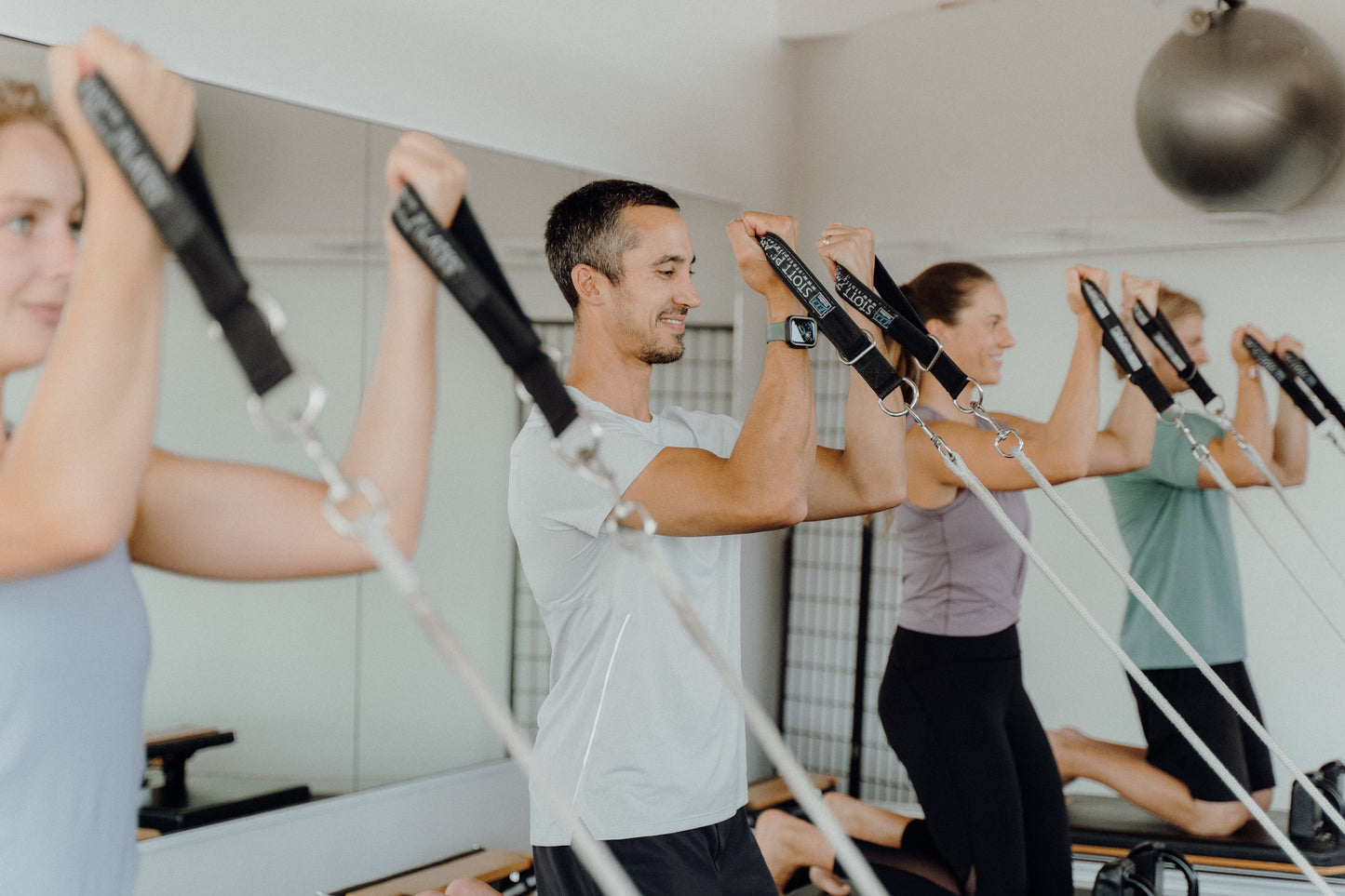 Pilates at Suna - Indoor Studio Classes & Open Air Classes
Keeping everyone active and moving is vitally important for both mental and physical wellbeing – and we're totally committed to that.
Your wellbeing is at heart of everything we do - which is why we have created safety procedures and policies that go above and beyond requirements, to ensure our wonderful clients feel comfortable enjoying Pilates at Suna. 
We are completely dedicated to bringing wellbeing and movement to everyone who wants it. We have implemented clear operating principles, health and safety measures, and a risk mitigation plan which means we can provide enjoyable ways for all Suna members to workout. 
We have an Open Air Studio and Indoor Studios.
We sanitise thoroughly between classes and deep clean every evening. 
Maximum number of people in Suna Reformer classes will be 9 and maximum number in Suna Fit Classes is 20.
All classes must be booked. Please note our $10 late cancellation fee (8 hours' notice is required) to encourage you to make any unwanted places available for someone else. You can book on the day, just so long as a booking is made.
Our Zoom timetable is open to all members, book your spot in the app.
On Demand workouts are available for all members to use at any time!
Masks are not mandatory while exercising but you are very welcome to wear one.
We ask that you stay home if you feel unwell in any way or if you have visited a place of interest during a relevant time or you had contact with anyone who has Covid - you can continue exercising with our on demand workouts and our zoom classes.
The wellbeing of you - our customers and our staff - is always our top priority. We know that exercising is an important part of mental and physical health - and a great immune system booster - and we want to reassure you that you can workout with us in confidence. So, we'd like to share some of the steps we've taken to maintain your wellbeing when you are in our care at the Pilates Studio.
All surfaces are regularly and thoroughly cleaned with a combination of Tea Tree oil and alcohol which are both anti-viral and anti-bacterial. This includes everything that you may touch at Suna – Equipment, mats, balls, handles, straps, balls, door handles, water cooler, counter top, etc.
We are steam cleaning all Pilates equipment between every class.
We've added more diffusers around the studio with immune boosting and anti-viral essential oils.
There are hand sanitisers available on the front desk, around the studio and in the bathrooms - but remember there is nothing better than washing your hands correctly with soap.
We are keeping the doors open where possible to increase natural ventilation in the studio.

Here is 

a list of things you can do to boost your immunity

 - we hope that it's helpful.
A final word from us
Keeping everyone active and moving is vitally important for both mental and physical wellbeing – and we're totally committed to making that possible, and safe, so we can continue to share our Suna love with everyone.
If you have any questions, please talk to us. We are here to help you, always.